The availability challenge for CPGs
The most common mistake CPGs make when it comes to availability
Retailers use thousands of stores to fulfill orders every day. At the same time, shoppers have the flexibility to choose when, where and how these items reach them, from in-store pickup and curbside pickup to in-home delivery service, standard ship and express delivery.
Demand of course varies by channel and location e.g. higher demand in cities and more densely populated areas. Other factors that can influence demand include seasonal trends, new product development, events, localized promotions, emerging channels, social media etc. Additionally, the supply network faces regular constraints that impact upon availability and deliverability. This makes it incredibly complex for CPGs to keep track of supply and demand, which inevitably leads to stockouts and lost sales opportunities.
The challenge is made even greater by ongoing economic and geopolitical factors, inflicting a heightened squeeze on margins, resulting in longer-lasting repercussions for stockouts. The availability metrics in quick commerce therefore become more important for manufacturers.
The first step to avoid unnecessary out of stocks is to get the fundamental metrics and visibility in place. First, how many locations is the retailer selling a product in? Second, does the retailer have sufficient stock to fulfil all orders through the different fulfilment channels at 100% of locations? Then, from a strategic perspective, how are products being offered at these locations compared to those of competitors, and for that matter, the entire category? Remember, the digital shelf is the shopper's only source of truth, therefore it must always be correct and compliant. It can also be a big competitive advantage… let's take a deeper look.
Showcasing the critical need for granular out of stock tracking
Before the eruption of omnichannel and flexible shipping methods, demand was far more predictable. Manufacturers could rely on recurrent supply cycles without the need for high precision metrics or localization of data. Now, many analytics providers struggle to adapt to the spiral of data points and the need for exhaustive omnichannel data collection. By not adapting to this change, brands are no longer empowered to measure true availability across retailers.
New digital shelf analytics help to get an accurate measurement of crucial availability metrics, and provide the ability to localize issues and address problematic stores and SKUs.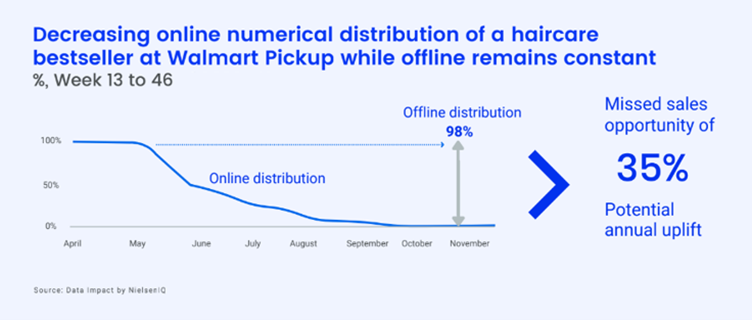 In the above example, a bestseller SKU in the haircare category lost a significant proportion of online sales revenue by not addressing the increasing gap between online and offline distribution. It's useful to note here that discrepancies between online and offline distribution can often be relatively quick wins for manufacturers.
Location-based analytics can indicate which retailer, products, and even which store locations should be targeted to reduce high availability rates. Setting a benchmark in line with offline distribution helps to maximize ecommerce sales opportunities with a retail partner.
In the next example, we see how a food manufacturer's primary SKU had consistently lower distribution than its competitor's equivalent during the months from September to December.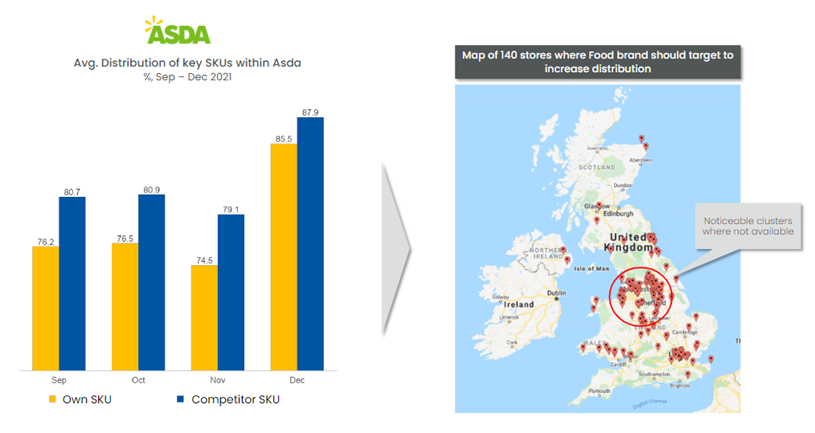 By ensuring distribution is consistent and competitive across all of the retailer's channels, you can boost sales and avoid all the negative consequences of being out of stock e.g. decreased search rank, retail media ROI and shopper loyalty.
The below graphic illustrates the cumulative loss of sales and therefore potential gain from distribution optimization across a number of popular US stores and channels.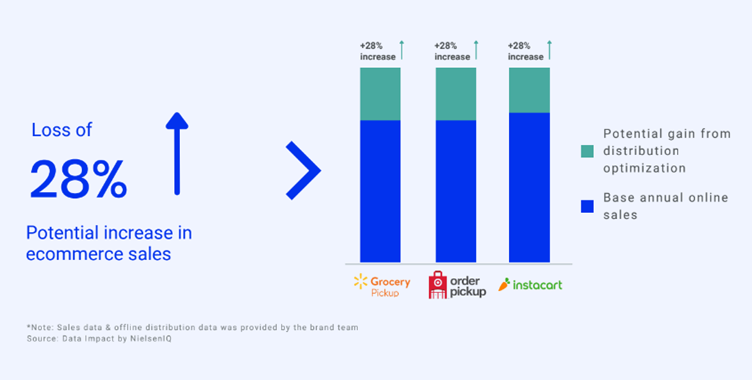 Implementing granular KPIs to track availability ensures CPGs are equipped with the right information to quickly get to the root cause of problems and take precise actions. It is the only way to fortify an ecommerce strategy against high out of stock rates – by effectively making use of resources to improve planning, strategy and mitigating against risks.
As the market continues to shift from a warehouse-based ecommerce model to a store-based omnichannel model, CPGs must adopt new analytics to counter the growing layers of complexity.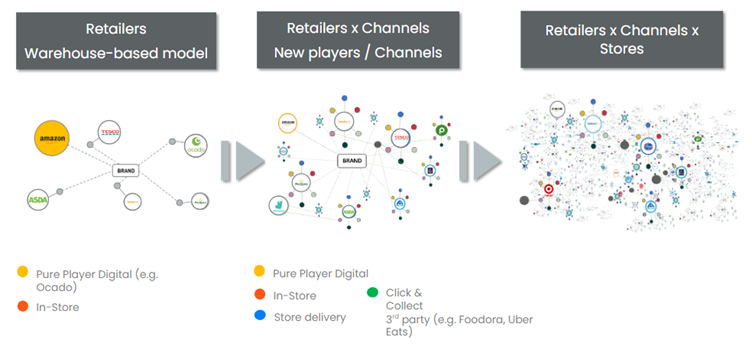 Rob's knowledge of ecommerce can help CPGs future-proof their digital shelf strategies and define their omnichannel needs.