Could the increasing complexity of omnichannel be a blessing in disguise for CPGs?
This article was written for Supermarket News and is also available on their website.
 ""The growing complexity of the CPG ecommerce market represents an important challenge but also a huge opportunity for first movers. By optimizing their omnichannel execution, brands can optimize their online revenue by more than 20%"
Yacine Terki – Data Impact
The second opportunity lies in discrepancies or gaps in the execution of product distribution, pricing and media. These issues come between shoppers and products, so solving them means increased sales and enhanced relationships with retailers. 
To face these new challenges, CPG brands need a strategy. The BCG ecommerce capability flywheel illustrates the ideal functionality. With good data in hand, CPGs can enable each component of the flywheel. It will keep its momentum when a feedback loop is established between a data analysis provider and the manufacturer, enabling sound ecommerce business decision making.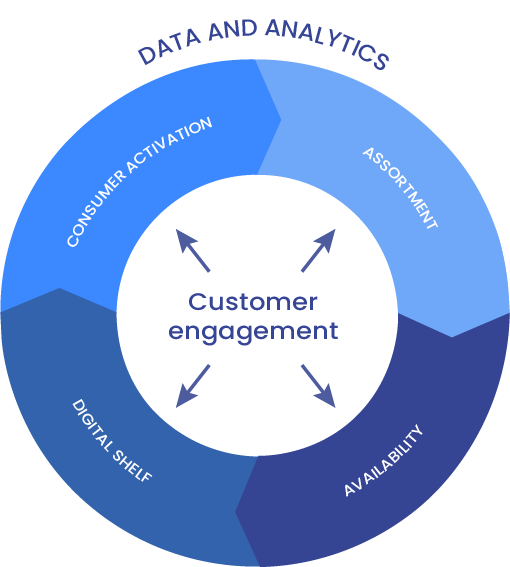 Assortment: Rapidly identify gaps through an overview of the entire category including the key ability of identifying issues at specific stores requiring urgent solutions.
Availability: Track store-level SKU inventory in real time and prevent OOS.
Digital shelf: Monitor and improve search and content performance with granular data.
Eretail media: Understand your competitors' strategies, define your own, and adjust with tactical actions.
"Data and analytical-insight partners are critical… especially to provide ongoing real-time visibility into online performance, changes in consumer demographics and preferences, and competitors' moves in the ecommerce realm."
Data accuracy and granularity now form the backbone of a successful strategy and execution in ecommerce. 
The importance of high quality, reliable data to inform CPGs of each aspect of their ecommerce activities can't be overstated. The actions manufacturers take to address or anticipate issues and opportunities will only be effective if the data is accurate. High quality data is granular, meaning it's collected at store, SKU and day level. Low quality is sample-based which yields false indicators, leading to wrong decisions or actions, unclear measurement and weakened internal conversations and external ones with retailers. 
"It is now essential for brands to step up and support their team with powerful analytics that can help them increase their sales."
Yacine Terki – Data Impact
Equipped with actionable and predictive analytics, CPG companies can not only confront the growing complexity of the omnichannel market but benefit from it. They can nurture their direct relationships with ecommerce retailers with valuable category and assortment information, boost their digital shelf, and develop localized strategies for demand planning, inventory management, and shipping.