Mastering product visibility on Amazon: boosting your ecommerce success
Product visibility: unleashing the potential of Amazon
Good product visibility is an essential part of a successful Amazon strategy. In this article we'll explore strategies to optimize it for maximum impact. Whether you're a seasoned online retailer or just starting your ecommerce journey, mastering product visibility on Amazon is essential to stand out amongst the sea of products found there.
Get ready to unlock the secrets of product visibility and elevate your ecommerce game!
Understanding the power of product visibility
Product visibility refers to the ability of your offerings to be seen and discovered by potential customers across various online platforms. It plays a crucial role in attracting visitors, driving conversions, and ultimately boosting your sales. Without effective product visibility, your products may remain hidden, limiting your growth and revenue potential.
By understanding the power of product visibility, you can leverage it to your advantage and create a strong online presence.
Optimizing product titles and descriptions for Amazon
One of the key factors in enhancing product visibility is optimizing your product titles and descriptions. Craft compelling titles that accurately represent your products and include relevant keywords that resonate with your target audience. Ensure that your descriptions provide detailed information about the product's features, benefits, and unique selling points. By optimizing your titles and descriptions, you can improve search engine rankings, attract organic traffic, and increase the visibility of your products. 
Amazon has distinct 'optimal values' for all of these features of the product detail page, and it's essential to be in compliance with them and optimize for them. 
Utilize Amazon's search algorithm by strategically incorporating keywords in your titles, bullet points, descriptions, and backend search terms. This optimization enhances the chances of your products appearing in search results and related product suggestions.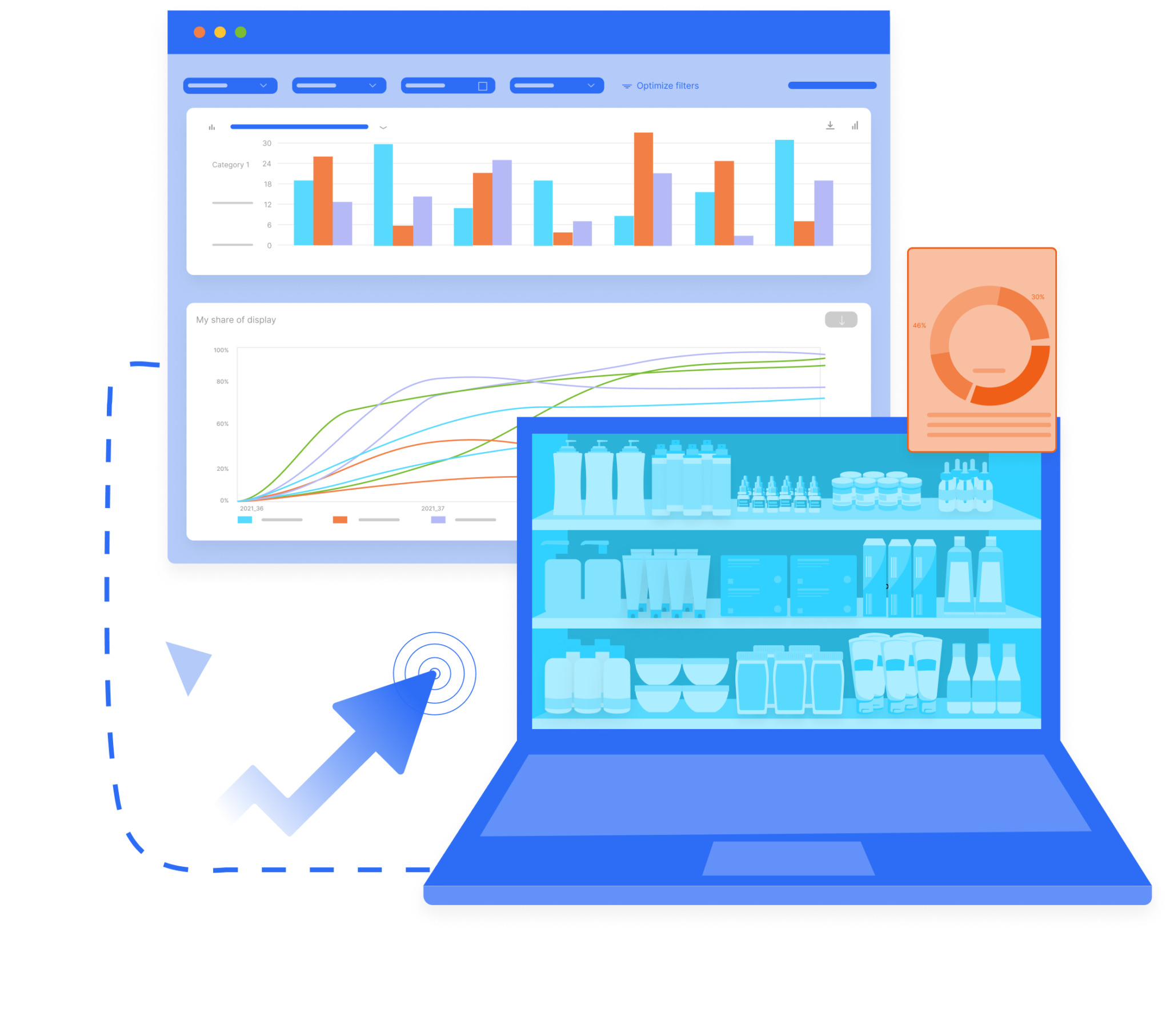 Harnessing online-adapted product imagery
Visual appeal matters. Use high-quality images that showcase your product from various angles. Enhanced Brand Content (EBC) and A+ Content offer opportunities to provide a more immersive shopping experience, enabling you to showcase unique features, benefits, and storytelling.
In the visually-driven world of Amazon, clearly visible product images are crucial for capturing customers' attention and boosting product visibility. 
Images must be designed specifically for online, properly formatted and designed so that the essential images are immediately recognizable–such as product name, format and size. Invest in professional product photography or create visually appealing graphics that showcase your offerings in the best light. Where relevant, provide multiple angles to give customers a comprehensive view of your products. Optimize image sizes for fast loading speeds to enhance the user experience and minimize bounce rates. Again, be sure to comply with Amazon's specifications for everything. 
Leveraging the power of video
Video has become a powerful tool for enhancing product visibility and engaging customers. Create engaging product videos that demonstrate your products in action, highlight their key features, and provide valuable information. 
Videos allow customers to visualize the product's use and benefits, helping them make more informed purchasing decisions. Incorporate videos into your product pages, as well as harnessing anyother EBC Amazon makes available. Always be sure to use all the real estate Amazon offers, and use it well.

Online marketplaces such as Amazon (and Amazon more than any other platform due to its high household penetration) offers vast opportunities to expand your product visibility. Many shoppers browse Amazon before making a purchase, even if they end up buying the product elsewhere. Optimize your product listings with relevant keywords, compelling titles, and detailed descriptions to improve search rankings. Encourage customer reviews and ratings to build trust and enhance your reputation. 
By maximizing your presence on Amazon, you can significantly increase your product visibility and reach a broader customer base. It's important to respond to as many customers as possible, especially with negative reviews which should be responded to immediately.
Here's a few more tips and tricks for succeeding on Amazon:
In the ever-evolving Amazon ecosystem, employing a multifaceted approach is key to ensuring your products remain visible and attractive to potential customers. By combining meticulous listing optimization, strategic advertising, and responsive adaptation to market dynamics, you can position your products for enhanced visibility, increased sales, and sustained growth.