Digital Shelf Portfolio Maintenance
The importance of full category coverage
Measuring private label impact​
Many brands only have a partial understanding of online category structure, purely because data coverage is limited, and the process of upkeep is outdated, and let's face it, pretty toilsome.
The problem arises in that older models of digital shelf analytics do not own this challenge well, in the sense that SKU lists are definitive, often capped to a limit, costly to increase, and rely heavily on the brand to maintain. When you consider the growth in e-commerce, depth of competition, disruption of challenger brands, changing consumers and changing trends, in a world being driven by omnichannel consumption, it makes it fairly implausible for e-commerce teams to manually oversee portfolios.
In an omnichannel assortment, local and regional consumption should also be considered; the top 3 products at Walmart New Brunswick may be completely different to the top 3 products at a Walmart in Pittsburgh. In fact, the entire assortments will be different in terms of size and products. Therefore, it's important to keep track of all the players to ensure your portfolio remains accurate and your representation of the shelf responds to the dynamics of each retailer.
For example, the difference in the number of products between the largest and smallest assortments at Tesco stores in the Haircare category during the pandemic was 902, while the average store had 781. This type of granular and comprehensive overview is key for distinguishing where you really stand, and remaining alert to wider market trends.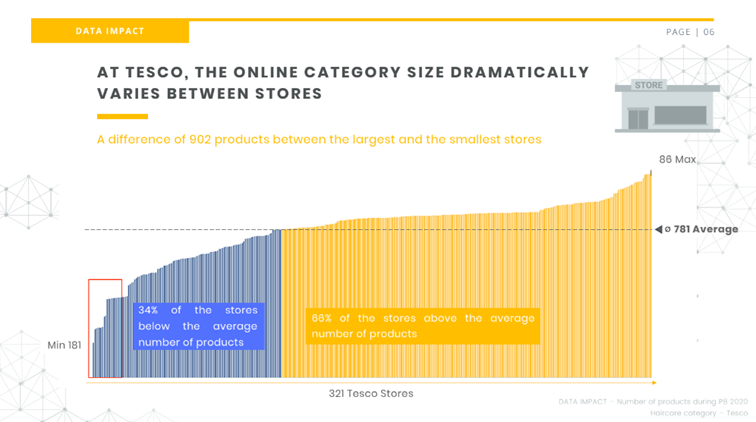 When it comes to having a 'complete view', look also at the impact of private label.
83% of grocers said they plan to moderately or significantly increase their investments in private brands, setting bold targets for sales share growth at an average dollar share gain of 24% over the next two years
We're already seeing CPGs battling for less and less spots, and that's with a current 60% e-commerce penetration of private brands. In December 2022, sales of UK supermarkets own label products rose by 13.3% compared to the year prior. Meanwhile, sales of branded goods increased by only 4.7%.
What's more, supermarkets are adjusting online search functions to prioritize their own offerings. In the insights attached, we see how private label share of search increased between June and September at Asda (averaged across 600+ stores – true measure of search!). In September alone, the number of shoppers buying at least one Just Essentials product from Asda increased from 33% to almost two-thirds.This falls in line with FMI's findings; 80% of retailers mentioned search prioritization as an important lever for e-commerce improvement.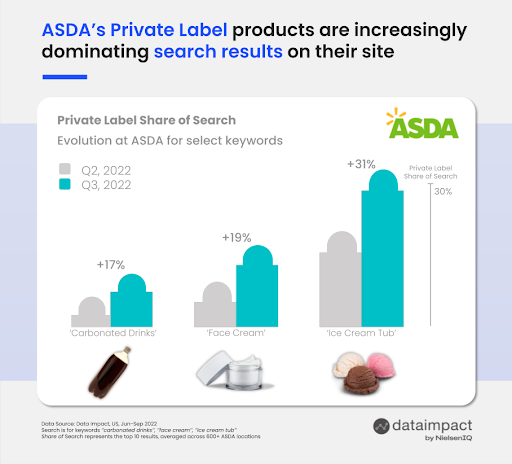 We shouldn't expect retailers to simply just give their own brands more prominent placements. Grocers are likely to take all the necessary steps to ensure shoppers keep coming back for more, including by adopting strategies to hold onto the higher shares when the economy improves.
Some examples:
Plan on working with suppliers to optimize price and availability
Work on compelling product images
Launch new products and improve trends intelligence
In summary, a clear message to CPGs; full category coverage is critical as supermarkets lay out their tactics to double down on          profitability and seek to grab substantially more of the grocery business.
Assortments will contract and expand more readily as strategies change, channels/platforms develop, and competition becomes more fierce.
Brands need automation and new tech capacity to make accessing a complete dataset, timely, accurate and hassle free. Above all, exists the need to future proof capability amidst a more disruptive and dynamic landscape.
Rob's knowledge of ecommerce can help CPGs future-proof their digital shelf strategies and define their omnichannel needs.